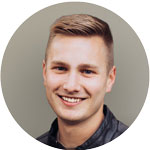 Dr. Richard Kerby
General Dentist
Dr. Richard Kerby graduated from the University of Saskatchewan with a Doctorate in Dental Medicine in 2021. He also has a Bachelor of Science (B.Sc) in Biochemistry with a medical specialisation from the University of British Columbia, Okanagan.  Richard enjoys fishing, running, travelling, and spending time with his dog.
When he has time off, Richard likes to spend his free time at the lake with friends and family.
Being able to work with people and make them smile has always been his goal, so dentistry has been a compatible fit for his interests.