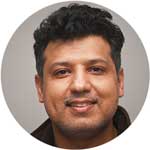 Dr. Sheheryar Cheema
General Dentist
Dr. S. Cheema graduated from the University of Health Sciences, Pakistan, in 2006.
Dr. Cheema practices general dentistry and looks forward to supporting the patients of our communities.  Dr. Cheema enjoys camping outdoors, trekking, and swimming with his family while not practicing dentistry.
Dr. Cheema and his wife and two sons moved to Saskatoon, where he looks forward to supporting its communities.
He is excited to meet all Hill Top Dental patients and looks forward to serving the Prince Albert community for many years.